Top Ten Recipes with Wasabi Peas you should try today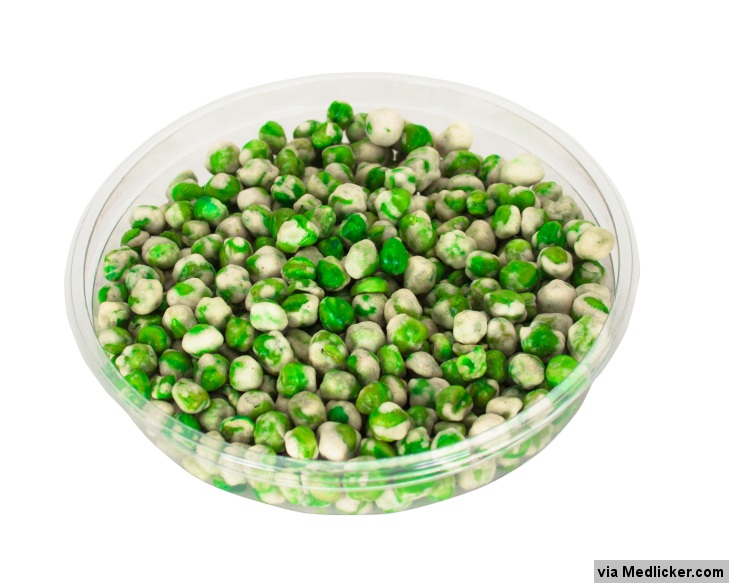 December 1, 2014 at 6:38 PM
Here is an article featuring lots of information on history, cultivation and health benefits of Wasabi peas, as well as 10 juiciest recipes with Wasabi peas.
Want to Eat Something new?
Are you bored with your daily diet? Do you want some spice and try something new? If you want to, then you need to read this article as it will inform you about a new plant wasabi and also tell about the top ten recipes for making wasabi peas.
Wasabi is a plant and member of bracecauceae family. It is known by another popular name, Japanese Horseradish (although horseradish is a different plant). This plant grows primarily in Japan. It grows naturally along the stream beds in mountain river valleys in Japan. However now it also grows in the Pacific northwest of the US. Among other cultivators of this plant, two of the main cultivators are "Daruma" and "Mazuma".
The plant of wasabi can reach up to a height of 30 centimeters. Its leaves, which are dark green and kidney shaped can grow up to 15 cm wide and 15 cm long. The seeds grow on small white flowers that attach themselves to the stem. This is known as rhizome.
History of Wasabi
According to the Japanese legend, this plant was discovered hundreds of years ago in a remote village by a farmer who grew the plant in his fields and then showed it to the warlord of that time, Tokugawa Ieyasu. Ieyasu liked it very much. He declared the wasabi plant as a treasure to be grown only in the Shizuoka area.
Cultivation of Wasabi
Wasabi is quite a delicate plant, therefore it require certain kind of climate conditions including mountain stream and cool temperature etc. "Sawa" of "Sawa wasabi" actually means mountain stream, therefore it is also known as sawa wasabi. It takes time to harvest this plant usually about a year or half. The production area of wasabi is limited given the fact that this plant requires certain climatic conditions to grow. Most wasabi plants are found naturally in different parts of Japan including Iwate, Shimane, Nagano and Shizuoka.
Health Benefits of Wasabi
Not only wasabi has got a great taste but it is blessed with a number of health benefits as well. Things can't get any better than this, right? You can enjoy the umami taste of this snack and can use it to treat several ailments at the same time. Its uses and health benefits wasabi are briefly given below:
First of all, it is used in making various kind of dishes like sushi.
Wasabi ishelpful in controlling seasonal allergies and asthma. Allergies result when certain allergen (like pollen, animal dander, smoke, dust etc.) makes its way to our respiratory system. In the respiratory system, this allergen triggers a series of chemical reactions, result of which is intense spasm of airways, difficulty in breathing, wheezing and coughing. Here comes the role of wasabi! Some clinical trials have shown that use of wasabi plant parts (like leaves and beans) can limit, in fact, totally abate the release of these mediators of inflammation. As the result, allergies subside on there on.
Are you occasionally threatened by bacterial infections? Worry no further! Here again comes wasabi to your rescue. Results some clinical studies have shown that extracts from wasabi plants have got excellent antibacterial actions. In fact, the leaves and stems of wasabi are now being used as an important constituent in the preparation of different anti-bacterial medicines. These medicines are particularly effective in the treatment of different respiratory problems like cold, cough and sinus pressure.
Wasabi has got excellent gut cleansing properties as well. Perhaps, wasabi accomplished this by stimulating the growth of probiotic gut bacteria. These bacteria keep the level of harmful bacteria in check. As the result, our gut remains healthy. Use of wasabi preparations can therefore be used for the treatment of diarrhea and food poisoning.
Wasabi has got excellent body cleansing potentials as well. With time, our body gets loaded with unwanted wastes and harmful chemicals that are toxic to our body systems and eventually lead to several ailments. But clinical studies have shown that wasabi plant is extremely rich in vital antioxidants. Antioxidants are body friendly substances that cleanse your body of the harmful chemicals and make the systems brand new!
Wasabi has inhibitory effects on various strains of yeast, mould and bacteria. Recent researches have proven the fact that wasabi inhibits the mutant strains of Staphylococcus bacterium. It proves that wasabi works where traditional antibiotics don't. Amazing, isn't it?
The basic reason behind most heart attack and stroke incidences is abnormal platelet function. Platelets are small cells that roam our blood vessels and plug any site from where the blood oozes out. But this benefit of platelets can go against our benefits as well. In some conditions, as in heart attacks and strokes, platelets abnormally clump together and block major vessels supplying the heart and brain. This might all be quite frightening to your but look up to wasabi to save you from this danger as well! Wasabi also has anti-platelet effects as it inhibits the blood clots formation in the blood stream that is important for protection against heart attack and strokes.
There is some evidence that wasabi helps against the cancerous cells in the body. It acts to inhibit the enzymes which causes the pre-carcinogenic compounds into carcinogenic ones. Moreover, the antioxidant effects of wasabi, as previously mentioned, help in the early death of cancerous cells.
The antioxidants of wasabi are also potential targets for age related disorders of nervous system like Alzheimer's disease. Alzheimer's disease results from the very loss of antioxidants in the body.
10 tastiest recipes with wasabi peas
The top recipes to make wasabi peas are given below:
1. Wasabi Green Peas (learn how to make best wasabi peas)
The ingredients for this recipe are:
1.5 cups Mirepiox (diced, onions, carrots and celery)
3 cups dried whole peas
3 tablespoon olive oil
Salt
1/4 teaspoon onion salt
1/2 tea spoon garlic powder
1/4 cup wasabi powder
2 table spoon tahini
1 teaspoon Dijon mustard
2 tablespoons rice vinegar
How to make:
To make wasabi green peas, first of all soak dried peas overnight. After that rinse and drain them. Then place the peas in a large pot containing enough water to cover the peas. Now add the Mirepoix in it and boil it. Pre-heat oven to 200 degree F (95 degree C). After that, coat a large cookie sheet with olive oil. This will help from keeping the sides from rolling off. Drain the peas from the pot and transfer them to the cookie sheet. Roll them around in the oil by tilting the pan or stirring with your hand. Now bake it for about 4-8 hours in the oven with constant stirring after every 30 minutes. Remove the peas from the oven and season it with onion salt, salt and garlic powder. As the peas are being roasted, mix together tahini, rice vinegar, Dijon mustard and wasabi powder. When the peas are ready, pour them into a bowl and stir continuously to coat with the wasabi mixture. After that, put them again on the cookie sheet and return to the oven. Bake it for 10 minutes in preheated oven till the aroma becomes quite strong and the coating is dry.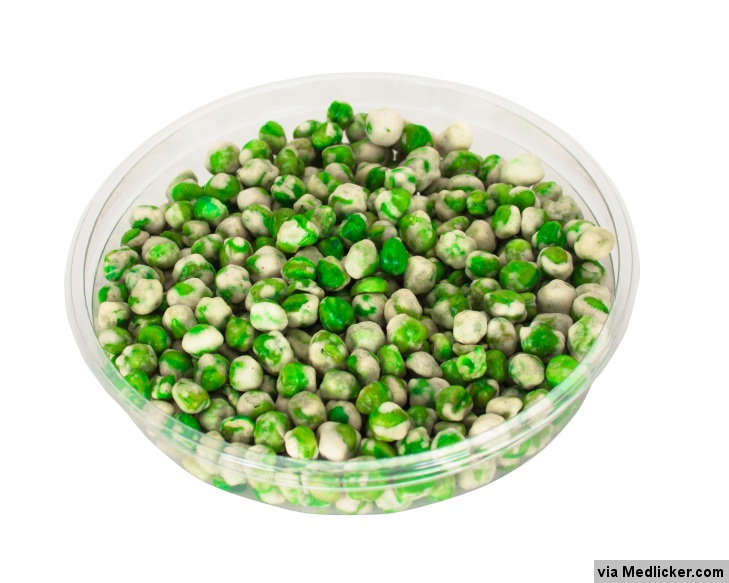 2. Wasabi Pea-Crusted Chicken
The ingredients for making wasabi pea-crusted chicken are:
4 boneless chicken breast halves
2 table spoon olive oil (more for brushing)
1/2 cup wasabi crusted peas
2 table spoon unsalted butter
How to make:
To make wasabi pea-crusted chicken, brush both sides of chicken breasts with olive oil. After that, whirl the wasabi peas in a blender and spread them on a plate. Dip one side of the chicken breast in the wasabi peas. Now repeat it with the other side. Put the chicken breasts aside and take flat bottomed skillet. Heat butter and two table spoons of olive oil on medium flame. After this, place the chicken breast in the skillet and keep on heating until pea crust becomes crisp and starts to brown. Turn and brown the other side of chicken breast. Check that the breast sides are browned. Now remove the heat and place the chicken breast on a paper towel to drain. Bake the chicken up to 375 degree F for 12 to 15 minutes.
3. Crunchy Wasabi Salmon with Lime
The ingredients for this dish are given below:
3/4 cup wasabi peas
1 table spoon finely grated lime peel
4 salmon fillets with skin
6 cup thin sliced cabbage
2 table spoon olive oil, divided
Lime wedges
Two table spoon fresh lime juice
Lime wedges
How to make:
First of all, preheat the oven to over 400 degree F. Now blend the wasabi peas in a processor until they are ground to coarsely crushed pieces. Oil the baking sheets. Arrange the salmon fillets on the baking sheets. Sprinkle the fish with salt. After that press the ground wasabi peas onto the tops of salmon fillets and pour one table spoon oil. Pour the grated lime over salmon. Roast the salmon until it is opaque. After this, heat one table spoon oil in a large skillet over medium heat. Add cabbage and sugar snap peas in it. Heat it for about 5 minutes and season with salt and pepper. Now transfer salmon fillet to the four plates. Drizzle it with lime juice and garnish with lime wedges and serve.
4. Ginger Shrimp with Wasabi Pea Puree
The ingredients for this dish are:
1 cup soy sauce
6 table spoon sesame oil
1.5 lbs shrimp
2 cups frozen peas
1 table spoon wasabi powder
1.5 table spoon ginger
Salt
Olive oil
How to Make:
To make ginger shrimp with wasabi pea puree, mix together wine, sesame oil and soy sauce and pour it over shrimp to cover in a large freeze bag. After this, marinate it in the fridge for about 60 minutes turning occasionally. Now cook the peas in salted water for a few minutes. Drain and plunge into ice water. You can also cook frozen peas in the microwave according to the package directions. After this, drain the cooked peas well. Blend the peas in a blender or food processor with the help of little wine. Add wasabi powder to the puree and blend it. Reheat the puree in a small pan and add salt and wasabi powder for taste. Now take a large pan and pour 2-3 table spoons of olive oil in it and heat it gently on a medium flame. When it is properly heated, add the ginger and then add shrimp. Fry it quickly for about 5 minutes.
5. Wasabi Pea Gnocchi
The ingredients for making the wasabi pea gnocchi are:
2 cups mashed potatoes
2 table spoon minced garlic
3/4 cup frozen green peas
1 table spoon minced fresh ginger root
Salt and pepper for tasting
1 large egg
1 table spoon wasabi paste
2 cups all-purpose flour
How to make:
To make wasabi pea gnocchi, process potatoes, ginger, wasabi, salt and pepper in a food mixture till the mixture is evenly green. Add the egg and process it again. Now mix 1 cup of flour in it and process it. Transfer the whole mixture to a bowl. Take the precaution to not over mix it. Now cover the mixture with a plastic wrap until chilled. This is done to help make the roll easier. On a well-floured surface, take about 1/2 cup of a mixture at a time and roll it into a rope of about 1/2 inch in diameter. With the help of a flour knife, cut the rope into 1/2 inch segments. Do the same thing with the remaining dough. Now in a large pot, take lightly salted water and bring it to a boil. Add gnocchi in it and don't overcrowd the pot. Cook the pot until the gnocchi floats on the top and drain the liquid.
6. Wasabi Mashed potatoes
The ingredients for making wasabi mashed potatoes are given below:
3 pound potatoes, cut and peeled into 1 inches cubes
8 table spoon unsalted butter
1 1/4 cups half and half or light cream
1 table spoon fresh ground white pepper
1/4 cup wasabi powder (mixed with hot water)
1 tea spoon salt
How to make:
To make wasabi mashed potatoes, first of all bring the potatoes to boil in a large salted water. Now lower the heat and keep on boiling until the potatoes are tender enough to be pierced with a fork. Mix wasabi powder with 1/4 cup hot water. After this, cover the bowl for about 5 minutes. In the meanwhile, take a saucepan and melt the butter in milk. After the paste of wasabi paste has stood for 5 minutes, put it into the butter and milk mixture. Now check your potatoes. Once they are cooked, drain them in a coriander. Return them to the hot pot and shake them to dry them out. Now peel and mash the potatoes and mix in the wasabi cream, salt and pepper.
7. Wasabi Ceviche
The ingredients for making wasabi ceviche are given below:
1 pound deboned firm white fish, and cut into 1/2 inch cube.
1/2 pound scallops
1/2 pound shrimp
1/2 cup fresh lemon juice
1/2 cup fresh lime juice
1 cup of fresh and peeled tomatoes
2 table spoon salt
1 table spoon wasabi paste
Avocado
Chopped cilantro
How to make:
To make wasabi ceviche, combine onions, salt, tomatoes, wasabi paste and hot sauce in a ceramic dish. Cover it with lime and lemon juice. Leave it covered in the refrigerator for an hour. After that, mix again for thorough coating of fish with the citrus juice. Leave the mixture to mix smoothly for about 6 hours. In the end, garnish it with chopped cilantro and avocado slice.
8. Crusted green tomatoes with Wasabi Mayonnaise
The ingredients for this recipe are given below:
1 table spoon salt
1 cup all purpose flour
1/2 cup corn starch
1 egg
1 cup cold water
1 1/2 cup panko bread crumbs
Vegetable oil for frying
Salt and black pepper
2 green tomatoes cored
How to make:
First of all, take a bowl and mix together corn starch, baking powder, flour and salt. In another bowl, mix egg, water, and vegetable oil. Now add liquid to the ingredients. Remember that the batter should be of a similar thickness to a pancake batter. In case the batter is too thick, add more water and in case the batter is too thin, add more flour. Now heat a deep fryer with vegetable oil up to 180 degree C. Dredge each of the sides of tomato slice in the batter. Let the excess of batter drip off. Fry the slices until they turn to light golden color. Drain them on paper towels and season with salt and pepper. You can serve them with wasabi mayonnaise.
9. Wasabi Bloody Mary:
The ingredients for this recipe are given below:
1.5 ounces vodka
6 ounces tomato juice
Lime wedge
1 tea spoon wasabi paste
Freshly ground black pepper for tasting
Ice
Celery stalk for garnishing purpose
Blood Mary Drink Rimmer
Worcestershire sauce
How to make:
For making wasabi blood Mary, place wasabi paste in a small bowl and stir the vodka until it is blended. Now mix the tomato juice, hot sauce, Worcestershire sauce and pepper. Combine it with wasabi and vodka mixture. After this, pour celery salt in a saucer. Rub a highball glass rim with lime wedge. Dip the rim in salt. Now take a glass and squeeze lime wedge in the glass. Add ice cube and cocktail mixture in it. The shake is now ready for drinking. Garnish and stir it with celery stalk.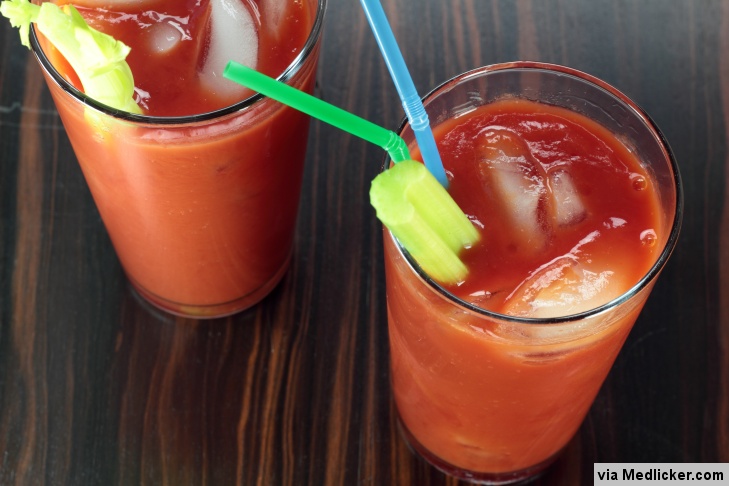 10. Wasabi Martini
The ingredients for making wasabi martini are given below:
3 ounces vodka
1 small fresh wasabi japonica leaf with celery leaves
Alternate garnish
How to make:
For making wasabi martini, first of all combine vodka and wasabi powder in a shaker. Ensure that all the wasabi powder is wet. Now add ice to it and shake it. Put this whole mixture into a chilled martini glass. Garnish it with celery or wasabi leaves.
Wasabi Snacks
Other than being used in recipes, wasabi is also available as a snack in the market. There are six flavors available in the market including Snapea Crisp Black pepper, Lentil Snaps and Snapea Crisps. They are not only delicious but also diet friendly. They are light, crunchy and perfectly seasoned.
Fun Facts about Wasabi
Some interesting facts about wasabi are given below:
Wasabi is difficult to cultivate due to the fact that it needs a very specific soil type.
The root which forms wasabi is exceptionally rare and expensive.
A song has been made on wasabi known as "Wasabi kiss" by Japanese Vietnamese music project AWAKEN.
Wasabi contains calcium, vitamin C and potassium, all of which are quite essential for a healthy life.
The wasabi root reaches its peak harvest size in the second year of cultivation.
New researches are aiming at finding a way to use wasabi as a smoke alarm for helping deaf people get out of danger more easily.
Eat Something Extra Ordinary
As you can see, wasabi is a versatile food source. Not only can you use it to make main course dishes but can also use it as a side snack. And don't forget the bunch of health benefits with which wasabi comes. If you persistently ailed bunch of infections that don't seem to go away not matter what medicine you eat; or you want a natural means to clean your body from all the toxins that have been hoarding up with time; or if you want to eat something clean if you're at the risk of developing heart or brain disease; or simply if you want to eat something tasty then wasabi is the way to go!

References
http://allrecipes.com/Recipe/Wasabi-Green-Peas/Detail.aspx?nextItemId=73846&position=0&prop24=RD_RecipeArrow_Left#next
http://www.foodnetwork.com/recipes/wasabi-pea-crusted-chicken-recipe.html
http://www.epicurious.com/recipes/food/views/Crunchy-Wasabi-Salmon-with-Lime-237322
http://www.yummly.com/recipe/external/Ginger-shrimp-with-wasabi-pea-puree-318867
http://www.yummly.com/recipe/external/Wasabi-Pea-Gnocchi-AllRecipes
http://www.thenibble.com/reviews/main/salts/wasabi-recipes.asp
| | |
| --- | --- |
| Written by: | Michal Vilímovský (EN) |
| Education: | Physician |
| Article resources: | Wasabi.org |
| Image resources: | Dollarphotoclub.com |
| Published: | December 1, 2014 at 6:38 PM |
| Next scheduled update: | December 1, 2016 at 6:38 PM |