Qsymia vs Belviq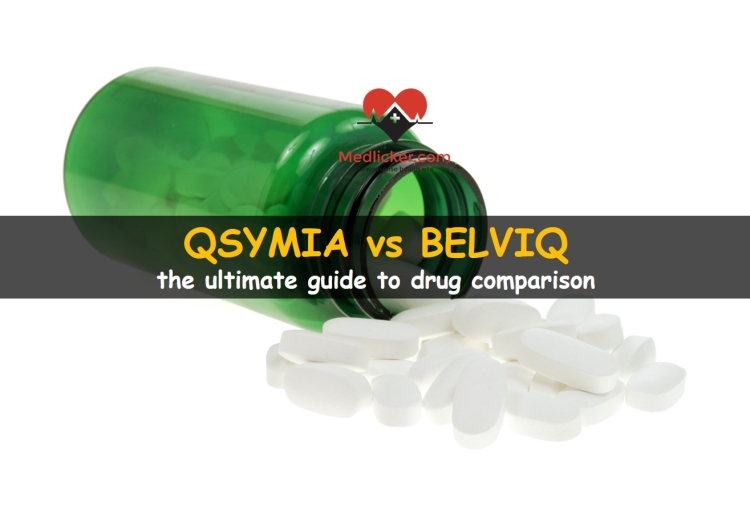 November 5, 2015 at 6:52 AM
This article reviews and compares differences and common features of Qsymia to Belviq (popular weight loss and obesity supplements). Medical uses, dosage, side effects and precaution of both drugs are described in an evidence based approach. You will learn that Qsymia and Belviq are not the same and should be taken wisely.
Qsymia
Qsymia (phentermine and topiramate extended-release) is a psychostimulant drug (e.g. a drug which temporarily improves mental and physical health). It belongs to the substituted amphetamine chemical class. It is used widely as a diet supplement. This drug has been approved to be used to control and suppress the hunger pangs. It is mostly recommended for obese people whose weight reaches a dangerous level. Qsymia may help in weight loss and it is designed for short term use with a healthy diet.
This medicine has been approved by the FDA as a safe drug but currently more tests are undergoing related to it. The FDA approved the usage of this medicine in 2012 (1).
This drug is available in many forms like in the form of capsules, tablets and drinks.
Medical uses
Qsymia is used in different weight loss programs where the main aim is to develop a change in behavior, increase exercise and reduce the overall caloric intake. This drug is used mostly by overweight people or people who want to keep their weight in a healthy ratio. This drug is also used by people having weight related medical problems.
The main use of this drug is to reduce weight but it also provides certain other benefits to the body. It reduces the risks of different disorders related to obesity such as diabetes, high blood pressure, heart disease and shorter life (2, 3).
Currently, the scientists don't have enough knowledge about exactly how this medicine helps in decreasing obesity. It may function by decreasing the appetite and increasing the amount of energy used by the body or the energy used by certain parts of the brain. This medicine is a combination of phentermine and topiramate. It is an appetite supplement and belongs to the class of drugs known as sympathomimetic amines.
Clinical trials have shown positive results for this medication (4). It has been observed that people who used this drug in combination of a diet program lost 10 to 11 percent of body weight as compared to the people in placebo who lost just 1 to 2 percent of body weight. About 60 to 70% of the patients lost more than 5% of their body by week 56 as compared to the people taking sugar pills.
Dosage and intake methods
Qsymia is available in four different dosages, which are mentioned below:
Qsymia 7.5 mg/46mg capsules
Qsymia 11.25 mg/69 mg capsules
Qsymia 3.75 mg/23 mg capsules
Qsymia 15 mg/ 92 mg capsules
The active ingredients in each capsule are povidone, methylcellulose, microcrystalline cellulose, starch, sucrose, titanium oxide, talc, gelatin, pharmaceutical black and white inks, FD & C Blue # 1, FD & C Red # 3 and FD & C Yellow #5 and #6.
You should take Qsymia during the morning time, either with or without food. You should avoid taking Qsymia during evening and close to bed time as it can make sleeping difficult for you. The doctor will give you a dosage of about 3.75 mg/23 mg topiramate for the first 14 days of treatment.

The doctor can increase your dosage up to 7.5 mg/46 mg a day for the next 12 weeks. Your weight loss process will be accessed by the doctor. The doctor can increase your dosage if you haven't reached your weight loss goal after 12 weeks.
Intake methods
There are many ways to consume Qsymia like taking it in tablet form or using orally ingested tablets but the best method out of these two is taking Qsymia in the form of tablets. The best recommended dosage for tablet form is 3.75 mg/ 23 mg capsules (5). The tablets should be taken only on the instructions of the doctor and should be taken with a glass of water.
Mechanism of action
The exact mechanism of action of Qsymia in the body isn't yet known but it is guessed that Qsymia intake can suppress the diet and lead to an increase in metabolism (6). Qsymia is a sympathomimetic amine that has a pharmacologic activity which is quite similar to the prototype drugs. The drugs of this class are commonly known as "anorexigenics" or "anorectics". Qsymia affects the weight management due to the release of catecholamines in the hypothalamus, which reduces the appetite and also decreases the food consumption but some other metabolic effects are involved in it.
The effect of Qsymia on weight management can be due to its effect on the feelings of satisfaction and the suppression of appetite. These effects are induced by the activity of neurotransmitter gama-aminobutyrate, inhibiting the excitatory glutamate receptors and inhibiting carbonic anhydrase.
The main action of Qsymia is on the central nervous system. It stimulates the nervous system and elevates the blood pressure. Drugs of this class have shown to have tolerance in which the following phenomena have been looked for.
Qsymia effect was monitored in a double-blind, randomized and parallel group crossover study (7, 8). About 54 people were administered Qsymia 7.5 mg/ 23 mg Qsymia at steady state and then Qsymia 22.5 mg/ 138 mg at steady state. It was found that Qsymia has no effect on the cardiac repolarization.
Actions after intake of Qsymia
Now let us look at what happens after Qsymia is absorbed in the body. The mean plasma phentermine maximum concentration time to area comes under the curve zero to the last measurable concentration when Qsymia is taken inside the body. This means that a high fatty diet doesn't affect the action for Qsymia 15 mg/ 92 mg. The dosage is proportional from Qsymia 3.75 mg/ 23 mg to 15 mg/topiramate 100 mg. When there is proper dosage, the mean Qsymia in the body becomes approximately 2.5 mg.
1. Qsymia distribution
Qsymia is made from two drugs, which are phentermine and topiramate. The plasma content of phentermine is 17.5%. The estimated distribution of phentermine is about 348 L through population analysis.
The concentration of topiramate on the other hand is 15-41% over the blood concentration range from 0.5 to 50 gammag/mL. The fraction bound decreases as the blood increases. The estimated topiramate and peripheral compartment is about 50.8 L and 13.1 L respectively through population analysis.
2. Metabolism and excretion
There are two metabolic pathways of phentermine metabolism, which are N-oxidation on the alipthatic side chain and p-hydroxylation on the aromatic ring. Cytochrome 3A4 metabolizes phentermine but doesn't show extensive metabolism.

Phentermine is also not oxidized by monoamine oxidase and MAO-B. About 70% to 80% of dosage remains unchanged and is excreted in the form of urine. The half-life of the drug is almost 20 years. The phentermine oral clearance is about 8.79 L/h through population analysis.
Topiramate doesn't show any kind of extensive metabolism. There are about six topiramate metabolites but they don't consist of more than 5% of the administered dosage. More than 70% doesn't exist as unchanged topiramate in the urine when administered alone. The half-life of this drug is about 65 hours. The estimated topiramate is 1.17 L/h through population analysis.
Over dosage
The problem of over dosage poses a serious threat in case of Qsymia. The stomach has to be emptied with gastric lavage if a person has consumed Qsymia recently. The appropriate treatment should be provided to the patient according to the extent of the over dosage and the person's signs and symptoms.
Overdosage of Qsymia can be related to tremor, restlessness, rapid respirations, confusion, hallucinations, panic states and hyperreflexia. A person suffers from fatigue and depression after the central stimulation. Some serious cardiovascular effects include hypertension, circulatory collapse and arrhythmia.

The common gastrointestinal symptoms include diarrhea, vomiting, abdominal cramps and nausea. Convulsion and coma is usually caused at the end of fatal poisoning. Some side effects caused by the intake of the drug along with anorexic drugs include insomnia, irritability, personality changes, hyperactivity and dermatoses. Sometimes psychosis can be caused in case of severe intoxication.
The management of Qsymia over dosage is symptomatic and leads to sedation. The drug excretion is increased due to acidification. Qsymia over dosage can also lead to metabolic acidosis.

Some signs and symptoms include drowsiness, convulsion, disturbed vision, agitation, dizziness, depression, stupor, and lethargy and mentation impairment. The clinical dosage consequences haven't been found to be that severe but deaths can sometimes occur when the drug is consumed in large quantity.

There was a case of a person who in took a dosage between 96 and 110 grams. He went into a coma which lasted for 24 hours and followed a recovery process in the next 3 to 4 days.
Side effects of Qsymia
The major side effects of Qsymia are caused due to its over dosage. Some major side effects of Qsymia over dosage include (7):
Increase in Heart rate – Overdosage of Qsymia can cause increase in your heart rate.  Your healthcare provider should check your heart rate when you take Qsymia. You should inform your health care if you suffer from a pounding sensation in your heart every time you take Qsymia.
Birth defects –Qsymia can cause serious birth defects. A woman who takes Qsymia during pregnancy puts her baby at risk of birth defects like cleft palate and cleft lip. These effects are difficult to counter because they occur early in the pregnancy stage, mostly before a woman even knows she is pregnant. Therefore, pregnant women should avoid taking Qsymia. Women who are pregnant and consume Qsymia should consult a doctor and get their tests to see if they are fit to take birth control pills with Qsymia.
Eye problems – Some serious eye problems are another reported side effect of Qsymia. These include eye pain, decrease in vision, blocking of fluid in the eye and increased pressure on the eye. You should treat these problems as serious threats because they can lead to vision loss if not properly treated. You should inform your health care if you have any new eye symptoms.
Mood changes and trouble in sleeping – Qsymia can cause sudden mood changes and problems in sleeping. You should inform your healthcare right away if these symptoms occur to you.
Increase of acidity in blood – The scientific name used for the increase of acidity in the bloodstream is metabolic acidosis. It can cause serious problems like soft bones, kidney stones and even comma. So, you should immediately get yourself treated in this case. Sometimes metabolic acidosis occurs without any symptoms. The people with metabolic acidosis feel hungry, have heartbeat changes and have trouble sleeping and thinking properly.
Seizures –Qsymia can cause seizures if the drug is left suddenly. Seizures can happen to anyone who stops taking Qsymia too fast. You should consult your healthcare provider in such cases.
Kidney stones – Development of kidney stones is another complication of Qsymia intake. So you should drink plenty of fluids when taking Qsymia and inform your healthcare provider if you feel severe pain in the back or have blood in urine.
Decreased sweating – People should watch the signs of fever and decreased sweating when taking Qsymia. You should inform your doctor if you suffer from these signs because they can cause serious problems if left untreated.
Moderate side effects
Some moderate side effects related to Qsymia intake are as follows:
Numbing or tingling sensation in the hands, arms and feet
Sleeping trouble
Dry mouth
Loss of taste in food
Decreased efficiency causes
The following things are responsible for decreased efficiency of Qsymia (8):
Qsymia can cause an increase in the heart rate. Therefore, people taking Qsymia should get a regular checkup of their heart rate. This is especially important for people increasing or initiating a dosage.
Different mood disorders can be caused by Qsymia which include depression and anxiety. So people who are already depressed and taking anti-depressant tablets should avoid taking Qsymia as it can further worsen the matters.
Qsymia can react with other medications especially anti-depressant tablets. So people already taking anti-depressant tablets should avoid taking Qsymia.
People who are taking another amphetamine pharmaceutical, furazolidone, fenfluramine, guanethidine or who have taken a monoamine oxidase inhibitor in the past 14 days should also avoid taking Qsymia.
Belviq
The scientific name for this drug is Lorcaserin (9) and was known as Lorqess during its development process. It is a weight loss drug which has been made by Arena Pharmaceuticals.
This drug has an effect on the brain chemicals that control appetite. You have to combine this drug with proper diet and exercise to see better results. Belviq is used to treat obesity and related complications like high blood pressure, high cholesterol and diabetes.
Medical uses
Belviq is used by obese people to treat their obesity issues (10). This drug should be taken only after consultation with the doctor. The doctor will approve this drug for you along with behavior change, exercise and reduced caloric intake program in order to better help you lose weight. Mostly overweight people who are overly obese or who have weight-related medical problems take this drug.
Some other problems which are related with obesity are also cured by the intake of belviq. These problems include:
This drug is a part of the class of drugs known as 5-HT2c receptor agonists. It acts on the part of the brain which is directly related to diet.
Belviq has been tested for its effect in many clinical trials (11, 12, 13). There were two major studies done.

The duration of the first study was 1 year and it included over 4000 people whereas the duration of the second study was 2 years and consisted of 3182 people.
Main findings of those clinical studies are described below:
Approximately half number of people taking the drug lost 5% or more of their body weight after one year of treatment. This was more than the placebo group who used only exercise and diet for weight loss.
About 22.4% of people lost about 10% of their body weight after 1 year. This was again more than the people who used diet and exercise alone.
Belviq is quite beneficial for overweight people with type 2 diabetes to lose weight. A test on Belviq was done which involved 604 overweight men and women with type 2 diabetes. The results of the study showed that almost 37% of the type 2 diabetes patients lost about 5% of their body weight. This was more than the people who used diet and exercise alone for weight loss.
Dosage and intake methods
The belviq tablet is present as blue and film coated 10 mg tablets. The tablets are round and biconvex with A on one side and 10 on the other side. The following is the recommended dosage for belviq:
The appropriate dosage is 10 mg tablets to be taken orally twice a day
You can take this drug with or without food
The response to this drug should be evaluated after 12 weeks. A patient should discontinue belviq if he hasn't lost 5% of his body weight by the 12th week because it is unlikely that he will lose weight after that.
Intake methods
Following are methods of intake of belviq:
The safest and the best recommended way of consuming belviq is in the form of oral tablets. You should always take these tablets with a glass of water. You can take one tablet in the morning after breakfast and the other one in the night after dinner.
You should never chew or try to swallow the tablets. You should drink it with water to get it dissolved completely.
Precautions
You need to take the following precautionary measures before taking belviq (14):
You should inform your doctor if you are allergic to belviq or if you have any other allergies. There are certain ingredients present in this drug which can cause allergic reactions and other problems.
You should inform your doctor about your complete medical history before taking this medicine. You should inform the doctor about any medical problems like diabetes, heart disease, painful erections, cell anemia, kidney problems etc.
This drug can make a person dizzy. Therefore, never drive, use machinery or do any such thing which requires alertness. You should also limit your alcohol intake.
Women shouldn't use this medicine during the pregnancy stages because it can harm the fetus. You should inform your doctor if you have plans on becoming pregnant or think that you are pregnant.
People with diabetes should be careful with this drug as it can affect the blood sugar levels. You should check your blood sugar levels regularly while taking this medicine. Inform your doctor if your blood sugar becomes low. The doctor will tell you to adjust your diabetes medication.
Doctors are still doubtful whether this medication passes into breast milk. So women taking this drug should avoid breast feeding. You should consult your doctor before breast feeding.
Mechanism of action
Belviq is a selective 5-HT2C receptor agonist. The vitro testing of this drug showed the selectivity for 5-HT2C over other targets. The 5-HT2C receptors are present in the brain and can be found in the hippocampus, cerebellum, amygdala, hypothalamus, thalamus and choroid plexus. The activation of 5-HT2C receptors activates proopiomelanocortin production, which promotes weight loss through the feelings of satisfaction.

Different clinical trials and other studies support this hypothesis. It is generally known that 5-HT2C receptors help in the regulation of appetite, endocrine secretion and mood. Belviq has shown 100x selectivity as compared to the related 5-HT2B receptor and 17x selectivity over 5-HT2A receptor.
Mechanisms after Intake – pharmacokinetics
This phase can be divided into the following parts:
1. Absorption
Belviq is absorbed from gastrointestinal tract and the plasma concentration reaches its peak after the oral dose. The exact bioavailability of this drug hasn't yet been determined. The half-life of this drug is about 11 hours. The steady state is reached after 3 days of consuming this medicine twice a day.
Twelve people were administered Belviq in a single 10mg dosage in the fasting state after giving them a high fat and high caloric meal.  The maximum concentration value increased to about 9% and the exposure under conditions was increased to about 5%. The value of Tmax was delayed about 1 hour in fed state. Belviq can be given to a person with or without food.
2. Distribution
Belviq distributes itself to the central nervous system and cerebrospinal fluid in humans. Belviq hydrochloride is bound to human plasma proteins.
3. Metabolism
Multiple enzymatic pathways are used for metabolizing belviq in the liver. The main circulating metabolite after the administration of belviq is belviq sulfamate having a Cmax plasma which is greater than the belviq Cmax plasma by 1 to 5-fold.

The main metabolite in the process of urination is N-carbomoyl glucuronide. The minor metabolite in urination is M1 having about 3% of the dosage.

Glucuronide or sulfate conjugates of oxidative metabolites are the other minor metabolites excreted in the urine. No pharmacological activity is shown by the principle metabolites at serotonin receptors.
4. Elimination
Belviq is metabolized in the liver and these metabolites are excreted through the urine. About 94.5% of radiolabeled material was recovered in a human balance study. About 92.3% was recovered from the urine and about 2.2% was recovered from the feces.
Belviq overdose
You should contact an emergency room or a poison control center if the belviq overdose is suspected. You can call a poison control center if you are a US resident. You can also call provincial poison control centers if you are a Canadian resident. The main symptoms of belviq overdose are hallucinations and high feelings of standing next to yourself (disassociation).
You should keep the following things in mind about this medicine:
Never share this medicine with any other person. It can cause harm and is against the law. You should keep this medicine in a safe place to prevent the chances of misuse, abuse or theft.
You should do medical or laboratory tests to continuously monitor your progress or to check for side effects. You should consult your doctor for details.
You should never miss a dose. You should take the dose as soon as you remember, if you miss a dose and resume your usual schedule routine. Never try to double dose.
Side effects
There are a number of side effects of belviq. You should stop taking the drug if you have developed an allergic reaction, difficulty breathing, swelling on your lips, throat, tongue and face.
Severe side effects
You should stop using belviq if you suffer from the following side effects:
Feeling of standing next to yourself or feeling being outside body
Thoughts of suicide
Hallucinations, agitation, overactive reflexes, rapid heart rate, fever, diarrhea, vomiting, nausea, fainting and loss of coordination
Slow heart rate and trouble in breathing
High fever, confusion, sweating, uneven heartbeats, fast, tremors, feelings of passing out
Swellings in hands and feet
Shortness of breath with mild exertion
Swelling in hands and feet
Body aches, soreness of mouth, flu symptoms
Pale skin, trouble concentrating, feeling light-headedness
Penis erection which lasts longer than 4 hours
Breast swelling or nipple discharge
Low blood sugar symptoms like hunger, sweating, weakness, headache, dizziness, confusion, irritability
Moderate side effects
Some less severe side effects of the intake of belviq include:
Nausea
Constipation
Cough
Dry mouth
Back pain
Feeling of tiredness, drowsiness, dizziness
Decreased efficiency causes
You should be careful while taking belviq. The following things can decrease the efficiency of belviq:
The efficiency of belviq is decreased when it reacts with other medications. These medications include Cymbalta, gabapentin, Lisinopril, Lyrica, meloxicam, metformin, phentermine, simvastatin, tramadol, trazodone, Vitamin D3, Vitamin B12, omeprazole and xanax.
Pregnant women should avoid taking belviq. Even obese women shouldn't take belviq. The reason is that modestly overweight or obese women gain weight with no weight loss.
Clinical studies comparing Qsymia to Belviq
Currently there are no studies which exclusively compare Qsymia and Belviq. But there are some studies which show the efficiency of these two drugs. These studies have been mentioned below:
A 24 week randomized study took place in which about 200 patients were divided into three groups. The first group was given phentermine 15 mg, the second group was given topiramate and the third group was given a combination of belviq and topiramate (15). About 79% of the patients completed the 24 week trial. The results showed that half of the patients who were given a combination of phentermine and topiramate (Qsymia) lost more than 10% of their body weight. This was more as compared to the other two groups.
Another study involving the administration of Qsymia involved a 56 week trial in which patients were divided into two groups. One of the group was put in placebo whereas the other group was given 2 doses of Qsymia. The results showed that patients who were given Qsymia lost about 6 kg of their body weight whereas those in the placebo group lost only 2 kg weight.
The major study regarding belviq were 3 randomized double blind trials in overweight and obese people. The patients taking belviq lost about 5.5 kg after the first year and the patients in the placebo lost only 2 kg of their body weight. This study was continued in the second year and the study showed the same results.
Conclusion
The above studies might seem unrelated to each other. But there is a way to compare the two drugs. We see that through the administration of Qsymia people lost 6 kg of their body weight. But people lost 5.5 kg of their body weight when they took belviq. This gives Qsymia a slight edge over belviq. Another thing which makes Qsymia a slightly better drug than Belviq is that there are more studies showing the effectiveness of Qsymia compared to Belviq. The side effects and adverse reactions of Qsymia also seem to be less dangerous than side effects and adverse reactions of Belviq. However it is only up to your physician to prescribe you the treatment you need and you should always seek his/her advice before taking any medications.
| | |
| --- | --- |
| Written by: | Michal Vilímovský (EN) |
| Education: | Physician |
| Article resources: | See the numbered references within the article. |
| Image resources: | Dollarphotoclub.com |
| Published: | November 5, 2015 at 6:52 AM |
| Next scheduled update: | November 5, 2017 at 6:52 AM |