Medical Quiz 1: Histopathology
January 16, 2014 at 7:05 AM
Look at the slide below carefully and try to answer the questions below. Once you have answered all the questions just click on the button below the picture to reveal the correct answer.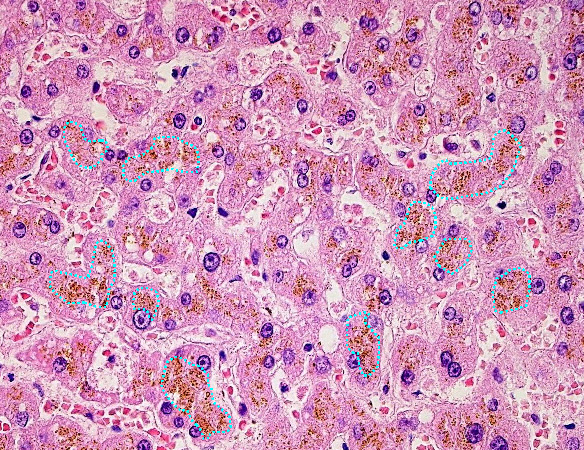 Questions:
What is the name of the organ?

What is the brown pigment within dotted blue line called?

What is the name of the disorder and which type of patient would probably suffer from this disorder?

Name other organs, which might be affected by the same disease?  
Answers to questions from the post
<ol>
<li>Liver.</li>
<li>Lipofuscin or "wear and tear" pigment. An important fact about this disorder is that this pigment is stored in cytoplasm (perinuclear storage) and also that this atrophy mainly affects parenchyma cells, which results in a relative growth of connective tissue amount and the organ therefore becomes tougher and less elastic (this can of course be seen in natura and not under the microscope).</li>
<li>The condition is called brown atrophy of the liver and is a result of a natural aging of the body or can be connected with cachexia. </li>
<li>Brown atrophy may also affect the heart or other parenchymatous organs such as kidneys or spleen.</li>
</ol>
| | |
| --- | --- |
| Written by: | Michal Vilímovský (EN) |
| Education: | Physician |
| Published: | January 16, 2014 at 7:05 AM |
| Next scheduled update: | January 16, 2016 at 7:05 AM |