Medical Quiz 5: Histopathology
January 25, 2014 at 11:44 PM
The problem we are about to diagnose in this post is very common and is one of the main causes of deadth in West European countries. Look at the slides carefully and diagnose the problem. To check your answer just click on the Show Answers button below.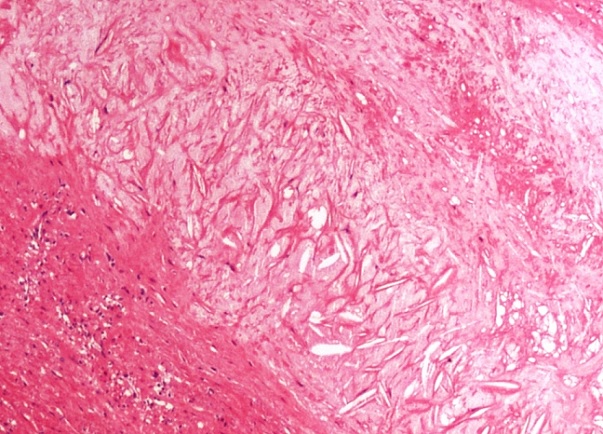 Fig. 1: 4x magnification
Fig. 2: 20x magnification
Questions:
What are the white clefts called?
These clefts are connected to one particular disorder. Which one?
What is the main risk for a patient suffering from these deposits?
Answers to questions from the post
<ol>
<li>Cholesterol clefts</li>
<li>Atherosclerosis</li>
<li>Mural thrombus</li>
</ol>
| | |
| --- | --- |
| Written by: | Michal Vilímovský (EN) |
| Education: | Physician |
| Published: | January 25, 2014 at 11:44 PM |
| Next scheduled update: | January 25, 2016 at 11:44 PM |