Medical Quiz 3: Histopathology
January 21, 2014 at 6:29 AM
Here is another histopathology quiz. Look at the slide carefully and try to spot the right diagnosis. This one is not that difficult. Once you know the correct answer just see below and answer all the questions. Finally you can check your answers by clicking on the "Show Answers" button.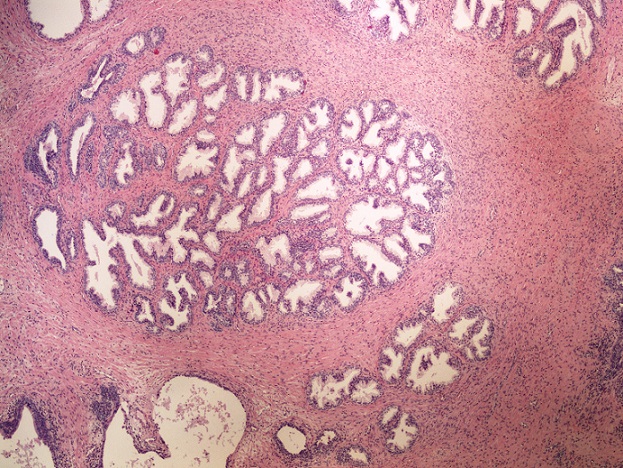 Questions:
Name the organ.
What is the disorder called?
What symptoms can you expect in someone suffering from this disorder?
Who is a typical person being affected by this condition?
Answers to questions from the post
<ol>
<li>Prostate.</li>
<li>Benign hyperplasia of the prostate.</li>
<li>Urinating problems, e.g. the patient will typically have problems emptying his bladder completely.</li>
<li>Men over 40.</li>
</ol>
| | |
| --- | --- |
| Written by: | Michal Vilímovský (EN) |
| Education: | Physician |
| Published: | January 21, 2014 at 6:29 AM |
| Next scheduled update: | January 21, 2016 at 6:29 AM |